Our penultimate day...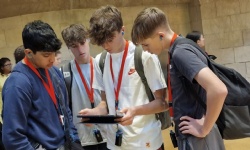 16 November 2023, 22:15 (CET) - Day 4 in Barcelona.
Our visit to the Sagrada Familia this morning was a real highlight. Our party was split into two and each group was given a guided tour by a wonderful guide. The students were given headphones and, as the guide spoke their voice came through them, meaning the guide could speak quietly and everyone could hear perfectly. Students were also given iPads which were used to do some interactive activities about the building construction and its history.
Our students all listened intently as the guides explained what they were looking at, pointing out little details that you would never have known without their expert knowledge. The students were noticeably impressed by the nativity facade and were engrossed as the guide explained what different features represented.
The guides did ask questions to our students, too, and I was really proud of how engaged they were. Students asked intelligent, thoughtful questions and got so much out of the experience.
After having our lunch in the Plaza de La Sagrada Familia, we walked through the Eixample to visit La Pedrera. Unlike the Casa Battló, La Pedrera has been left as it was when it was built, giving our students an idea of what a house for the Barcelona bourgeoisie would have been like in the early 20th century.
After the visit to La Pedrera, we walked ten minutes to the school where our students were happy to see their teacher and have their second language class. The feedback from the three teachers was very positive and all of them stressed how impressed they were with the behaviour of our group. Speaking to the students, it was clear they had enjoyed the classes and felt they had got a lot out of them.
Then it was time to eat and we returned to Fresco to enjoy the buffet. Later, we returned to the hotel and the students were given time to pack before enjoying their final night together in the hostel.