Day 2 with double celebrations!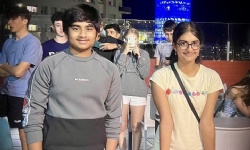 14th November 2023, 21:55 (CET) - Day 2 in Barcelona.
It has been another enjoyable and warm day in Barcelona for our students from Year 11.
The day started with a brisk walk to La Boquería, to enjoy a little market shopping. We set the students a challenge to buy something in the market, ask the price of some produce and learn the words in Spanish for some foods.
After leaving the Boquería and strolling up the Ramblas we stopped at the Plaza de Cataluña, where we gave the students time to do a little more shopping. We pointed out the massive El Corte Inglés but Sephora and it's slide seemed to be very popular. Safe to say Mr Judge, Mr Bashton and I gave it a miss.
Though very different to Sephora, the visit to Gaudí's Casa Batlló was equally popular amongst students. We were given an audio guide to listen to, which told us all about the building and its fabulous design.
A ten minute walk away was the school where the students had their first Spanish lesson. I was particularly delighted to hear from the boss of the language school about how engaged the students were and they all seemed to find it a very positive experience.
After finishing class we walked back to the hotel where the evening meal was waiting for us. Later, we were all really happy to sing 'Cumpleaños Feliz' to Anjana and Lakshya. Anjana celebrated her birthday yesterday and Lakshya on Thursday, when we won't be eating in the hostel. Candles were blown out, the cake was cut and the students could enjoy the rest of the evening.