YEAR 13 PROM – FASHIONABLY LATE BUT EFFORTLESSLY CHIC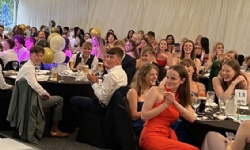 The second rite of passage at the end of Year 13 proves a huge success
The Year 13 Prom, held on Tuesday 27 June at Colwick Hall, was a huge success – testament to all the hard work the Student Committee had put into organising it, it went like a dream. The weather, as is always the case at these events, flirted with disaster and when Mr Deans and I arrived early, we did fear for the cool entrances the students had planned. Fortunately, as was the case at the Year 13 Leavers' Day, the rain didn't come out to play and all was well.
The glam stakes seem to be raised every year and this year continued that ascent. All credit to Nathan Rose for coming properly kilted out with all the accoutrements – that takes a bit of dedication. So well turned out was everybody that the Prom King & Queen awards, organised by the Student Committee, were unbelievably close but the deserved winners were Noah Adshead and Evangeline Buah.
Mr Peacock remarked that he had never seen the dance floor so consistently packed as it was that night. Shapes were thrown and hands were raised and at 11.30pm, the students departed, grinning from ear to ear. On their way out, a student said to me, "Thank you, Sir. I've attended two other secondary schools. WBS was the only school that I felt genuinely cared about me." A really heartwarming moment for me and a reminder of the importance of the school community. We stand or fall together and this year group definitely did the former. We will miss them.
Mr Bowie
Director of Post-16