THE TIMES THEY ARE A-CHANGING…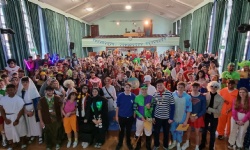 The start of the long goodbye as Year 13 prepare to step up to A Levels and out into the world
There are two traditions that revolve around Year 13 Leavers' Day. The first is a gentle form of ombrophobia where Sixth Form staff can often be seen looking nervously at the sky and / or their weather apps on their phones checking for the likelihood of rain. Experience has taught us that heatwaves and hailstones are almost as common as each other on Year 13 Leavers' Day. Fortunately, this year a happy middle ground was walked whereby the skies promised rain but never delivered it. I doubt it would have blunted this year group's verve and good humour. They have been a delight from the word go and were much the same on this, their special day.
The second tradition is the stated belief that "the costumes can't possibly be as good as last year." I can confidently state that this year's collection of costumes were some of the best ever – there were so many worthy of note, including the jar of Marmite, R2D2, the hippo and Napoleon that we will be talking about for some time.
Other traditions happily remained high on the agenda – notably the bouncy castle (well used by all) and the ice cream van (he was VERY busy) so ably organised by Mrs Miarkowski in the Post-16 Office. At 11am, all students found their way to the Main Hall where Mr Bowie led the Leavers' Assembly on the theme of time, space and reflection before handing out the Annual Year 13 Awards, the usual mixture of light-hearted and more serious celebration that make these days a little more melancholy than the students sometimes expect. It is the combination of high spirits and reflection that make this such an important day for our students as it marks one of the last times that they will all be together as a community. We now look forward to the Year 13 Prom, organised by the Student Committee, at Colwick Hall on June 27th where this year group will continue confidently towards their various futures. Thank you for everything you have brought to the school in all the time you have spent here. Next year's Year 13 have a lot to live up to.