Year 12 Rejoice Helps Create New Youth Charter for Nottinghamshire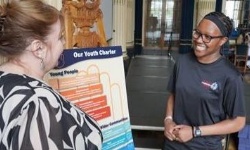 We are delighted to report that one of our own Year 12 students has been closely involved in the co-creation of a new Youth Charter to benefit all young people over Nottinghamshire.
The new Youth Charter, which was officially launched on June 8th 2023, aims to encourage and support young people in having a positive impact in their communities.
Rejoice Amieghemen, a Year 12 student here at The West Bridgford School, was one of the young people who helped create the Youth Charter. She is now setting up a team to visit youth clubs across Nottinghamshire to help promote the benefits of signing up. Rejoice was a service user at Support Through Sport, based at the Forest Recreation Ground, before becoming a Community Sports Coach at the organisation.
We are extremely proud to see a member of our school community leading by example to extol the virtues and benefits of positive community relationships – a huge congratulations to Rejoice!
For more information about the Youth Charter, including how to sign up, please email the Violence Reduction Partnership at vrp@notts.police.uk