COUNTY BASKETBALL CHAMPIONS!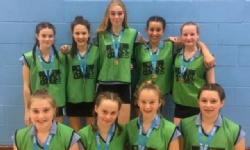 Well done to the year 8 and 9 Girls Basketball team, who, on Thursday were crowned County Basketball Champions.
They have now qualified for the last 32 in the country and the competition now becomes a straight knockout. This is a great achievement for the girls who com-mit to training on a Friday night and some, who, before joining the school never played basketball before.
They won the majority of games by at least 6 baskets which shows their strength. It is the second year running that this age group have qualified for the nationals and with interest in girls basketball at the school continuing to grow will hopefully be a sign of things to come in the future. Well done ladies!!