Proud to achieve the Stonewall School Champion Gold award!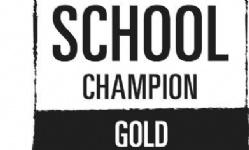 As many of you will no doubt be aware, acknowledging and celebrating diversity is something we are sincerely and whole-heartedly committed to doing here at the West Bridgford School, whether with our lively and colourful culture celebration events, engaging in national and local campaigns or creating thought-provoking work exploring equality, prejudice and discrimination. Culture and diversity initiatives run throughout the year and contribute to helping create a safe, inclusive, happy and proactive environment for all.
Our journey began with the Stephen Lawrence Education Standard back in 2012 which paved the way for us to branch out with confidence to all equality-related themes. As a part of this work we felt it was the right time for us to put LGBTQ+ equality on the agenda. It has been an exciting and engaging journey and we haven't looked back since!
The Stonewall School Champion programme has provided us with a robust framework to shine a light on policies, tackling bullying, curriculum and support, and wider school community and culture in relation to equality for students who identify as lesbian, gay, bisexual, transgender, questioning, and allies. The journey from Bronze through to gold has been hard work but very worthwhile. Here are just a few highlights.
Back to basics – staff are trained to challenge bullying, including HBT bullying and language, adding to their already varied 'toolkit', so all make it clear to students that homophobic, biphobic and transphobic bullying and language (HBT) is wrong. This has been highlighted:
with bold poster campaigns around school
terms were added to the reporting systems so staff are able to report with clarity which is then reflected in bullying and behaviour analysis throughout the year, allowing current trends to be spotted with greater accuracy and relevant initiatives put in place
in addition to strong support teams in school such as our Pastoral Support Team, HBT was also added to the online Report Bullying platform so students have multiple ways to report bullying should they be targeted or witness it. Although students can't report anonymously it does allow them to opt out of being a bystander and take action with discretion.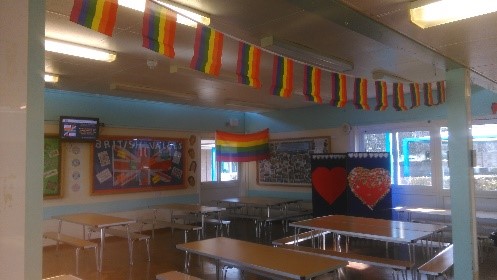 Business as usual - LGBTQ+ equality is embedded across the curriculum providing students with opportunities to discuss diversity-related themes. We have a wonderful display outside the Main Hall about equality and kindness. Many students contributed to this by sharing why they support equality. One student wrote 'because that's how I was raised'. Don't underestimate your input!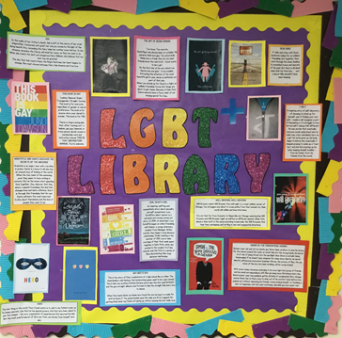 Stepping up - our young people, in particular the Culture and Diversity Ambassadors, School Council reps and Peer Mentors have confidently stepped up and co-led on a variety of initiatives, including assemblies, whole-school events, anti-bullying work, and shared their thoughts and ideas in Pupil Voice consultations.
Proud to celebrate – we have held several events over the course of the last five years to celebrate diversity and shared them with you along the way. Our fabulous celebration of LGBT History Month 2018 was shared in Issue No. 96 of The West Bridgford Post. We have also shared our practice and useful resources with other schools which has a further reaching positive impact for more students.
Finding out we have achieved Gold was a welcome piece of news and we really are delighted and proud to share this with you. It is thanks to our whole-school community for being so ready to not only acknowledge diversity but to wholly embrace it. This is beyond the 'framework', and actually, it is beyond the award! This is about a community of young people who are active and unflinching in standing up for what is important for our world and their future in all sorts of ways. So, a huge thank you to all involved in helping our school achieve this award. Very well-deserved!
However, there is always more to do!
Thoughts from students:
"By teaching both the students and members of staff about this important information, we, as a collective, are able to provide a deeper understanding about the subjects at hand and therefore create a closer community due to our ability to connect and understand each other."
Year 10
"By achieving the Stonewall School Champion Gold award WBS has ensured that the school is a safe and friendly place where everyone feels welcome and accepted."
Year 8
"The work we do in school towards culture and diversity highly influences our daily lives. The displays and culture days are a constant reminder of the values and morals we, as a school, hold and share with the community. It further expands our knowledge about the different beliefs and values society holds."
Year 10
"I think the Stonewall gold award will really contribute to our school as it shows if you really work hard for something you want you can achieve it."
Year 8