Languages Journalism Challenge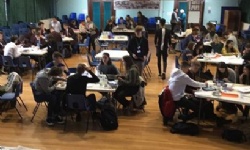 On the 20th November, we had the fantastic opportunity to host SCOOP, a languages and journalism event organised by the Business Language Champions, a company that promotes modern foreign languages and cultural cohesion by demonstrating to young people the importance of language skills in the workplace. The regional event was aimed at A Level students and only a few schools were selected to participate. During the day our students learnt a range of skills, had to react to a changing scenes and evolv-ing information, while still producing quality work in a multi-lingual environment. These are skills which many employers value in their workforce, as 70% of UK companies trade internationally.
Working to a tight deadline, the students had to produce a sample front page for a for-eign language newspaper, which provided them an opportunity to improve their team working skills under pressure, prove their flexibility and, above all, put their language skills into practice in a modern day work context. They also had the oppor-tunity to network with professionals that use languages in their jobs, including Simon Hart, a UEFA Journalist. During the whole challenge the students had to use their Spanish, French and German language skills. I am extremely proud of the per-formance and commitment of our students and it was a great privilege to represent our school with such a lovely group of students.

Haniah, one of our students who took part in the event, shared her experience:
"The languages journalism day was not only an enjoyable experience, but also a highly profitable day which proved to be very beneficial in improving my confidence in the Spanish language. The day was run in an exceptional manner by the school lan-guages staff and the external staff to give us the opportunity to meliorate and better our language skills. I look forward to see-ing and participating in many more language focused days".

I was very pleased to see many of our students receive special praise for demonstrating their abilities, including language skills, teamwork, leadership and negotiating ability during the challenging scenarios, which saw one of our teams clinch the runner-up spot. I'm so proud of you all - Oisin, Saffron, Haniah, Lottie, Matthew, Stan, Olly, Niccolo, Alex, Niamh, Teo, Toly, Lily, Leo, George, Sanija, Daniel, Preesha, Lucy, Mark, Becky, Ethan, Ben, Imilia, Kieran, Emily, Jack, Caitlin & Felix.

Enhorabuena. Félicitations. Herzlichen glückwunsch!!!