MAJOR EXPANSION OF THE CANTEEN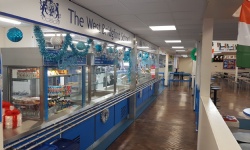 One of the prime concerns expressed by both students and parents in our current survey is how cramped our canteen facilities can be.
We now run split sittings at both break and lunch to minimise the number of students in the canteen at any point but, once the weather turns and students wish to sit inside to eat, the canteen can get very cosy indeed. Parents may be aware that to address issues with queuing in the canteen we have recently remodelled and refurbished the layout, queuing system and serveries, improving throughput, and adding extra tills and serving areas. To now add an additional 120sqm of space, Monday will see teams of builders move onto the site to begin work, providing more indoor seating and social space. We hope to have this open by timetable promotion of 2019.