A VISIT FROM 'THE FATHER OF THE HOUSE'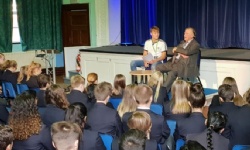 KEN CLARKE MP – by our 'Politics Journalist' - Post 16 student Luca Marshall
Last Friday, we were lucky enough to welcome Rushcliffe's MP Ken Clarke into school for a morning 'Question and Answer' session. It was a fantastic opportunity for students to ask questions on topics and issues which they felt passionately about wanted to ask Mr Clarke. These questions ranged from those concerning recent political policies and decisions, to those surrounding Mr Clarke's political career, which has spanned nearly fifty years. Many people think of Mr Clarke as just being Rushcliffe's Member of Parliament from 1970, thus making him Father of the House. Yet he has had an illustrious career, holding positions as a backbencher, cabinet member and a minister in an array of different departments. So, being able to speak to such a significant figure coming to the end of their career, was an amazing opportunity.
The world of politics at the moment is full of divisive and highly significant issues that are affecting young people and will have ramifications for future generations. Although the Brexit referendum, and thus the decision and negotiations that have followed, understandably dominate the media headlines, there is also a vast array of other issues that are currently affecting thousands of people on a daily basis. In addition to this, due to Mr Clarke's political experience, students were able to ask questions on topics at an international, national and regional level, both in modern day and historical politics. Students were able to talk, debate and discuss number of topics, ultimately gaining answers, insights into Westminster both past and present and holding people accountable for political decisions.
A vast array of questions were submitted to be ask to Mr Clarke, with the final chosen questions covered a wide range of issues. There was a conscious effort made to allow for all questions to be asked in order to result in both interesting and engaging answers from Mr Clarke, as well as allowing for all voices and views from students to be heard. As previously mentioned, Mr Clarke has had an extremely diverse political career, so our questions mirrored this. For example, we were able to ask local related issues, such as asking Mr Clarke 'what are you doing in Rushcliffe to tackle knife crime?' In the school's recent 'Make Your Mark Ballot', students were able to vote on the issue which they felt most strongly about front a group of differing topics. However, the school voted overwhelmingly wanting to end knife crime; an issue directly affecting young people with the consequences spreading across multiple generations. Therefore, we felt it was vital to include this question in our discussion with Mr Clarke. In response to this question, he provided his personal view on the topic and expressed the importance of looking for solutions from all areas of society including those from young people.
There has undeniably been a change in society's views surrounding mental health, as well as the stigma which is often attached to it, and thankfully we have noticed a similar change in attitude in school too. There is no doubt more to be done on this issue in order to help those suffering and eradicate the stigma attached. Due to this, we felt it was imperative to as Mr Clark 'what do you think the government can do and is doing to help?' Another topic which was discussed was foreign aid. Every year in school we have debate week. A chance to discuss a chosen issue in assembly and in tutor time, resulting in votes being cast by all students at the end of the week. Last year the question was 'is the government spending too much money on foreign aid?' So, we ask for Mr Clarke's opinion on foreign aid to hear his take on the issue and to see if they aligned with what the school voted for last year.
Interestingly, Mr Clarke spoke of his past political career and his stand out experiences of this time. From the moment he learnt Mr Cameron had announced the 2016 Brexit referendum, to the time surrounding Mrs Thatcher's departure from being Prime Minister, he was able to offer a fascinating insight into the workings of Westminster and what it is like to be a politician. Overall, it was an amazing opportunity and morning for all students involved. From main school students being able to hear from him on issues that interested them, to a-level politics and economics students paying close attention to his thoughts on policies and decisions that are directly linked to their studied subjects. On a personal note it was a great chance to chair and organise the session with Mr Clarke, when pursuing a career in political journalism and broadcasting. Overall, the morning was seen as a great success by all those involved.