Year 9 Girls South Nottinghamshire Cup Champions!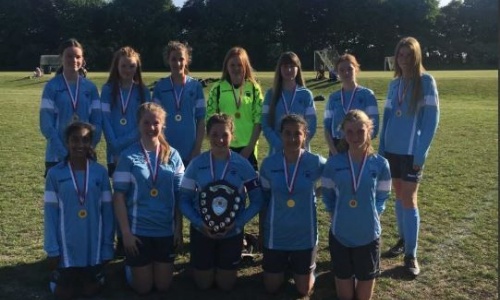 Well done to the Year 9 team.
The Year 9 Girls Football Team attended Calverton Football Club for the South Nottinghamshire Final against Carlton-Le-Willows (CLW). The girls were nervous and excited to play in the fantastic conditions with support from parents at the sideline. The girls worked hard from the first whistle with excellent defence and pressure from Maija Purves, Neve Leach and Hope Williams. Just before the half-time whistle, a goal flew into the back of the net making the score 1-0. A great finish to the first half and leaving the girls with a positive mindset for the second half.
The second half began and CLW came back strong, but West Bridgford continued to work hard and put them under pressure and managed to get a second goal leaving the score 2-0. As the final minutes approached CLW found space to score a consolation goal, leaving the final score 2-1 to the West Bridgford Girls!! As the final whistle sounded the team cheered and celebrated their fantastic victory, claiming the South Nottinghamshire Title for the 2nd year running. A brilliant end to the season and the team shows fantastic promise for next season. Well done and congratulations to all involved!
Back row from left to right: Alice Godley, Hannah Atkin, Grace Littlejones, Fran Roberts, Maddie Brown, Evie Partridge and Maija Purves
Front row from left to right: Hannah Dobson, Neve Leach, Hope Williams, Lugain El-Mahalawy & Holly Gallacher