YouNG Business Students.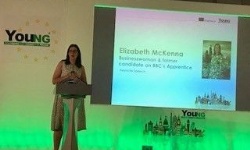 Year 11 GCSE Business students attend YouNG event..
On Friday 6th July a group of year 11 Business Studies students attended the Generation YouNG conference and market at Rushcliffe Arena.
They started off by looking around the market stalls. All products on sale were hand made by young entrepreneurs in the area, and included crafts such as tee-shirt printing, soaps, printed bags, wristbands and candles. There were also a number of stalls with young entrepreneurs from Poland, Slovakia and Italy. This was made possible by the YouNG into Euro initiative, in conjunction with Erasmus, a European Union student exchange programme established in 1987.
The students heard from a number of local business leaders who spoke about the world of work and the skills required for jobs of the future. They also heard about labour market initiatives and work experience opportunities from Nottingham Trent University.
Year 13 business student Kai-Yan Lai spoke about his experiences with YouNG abroad, working with the market and developing his skills as a photographer and film maker.
The highlight of the morning was definitely a talk from local businesswoman Elizabeth Mckenna. Elizabeth appeared on the BBC TV show, 'The Apprentice' in 2017, coming fourth.
She spoke about her floristry businesses, her support of young people, and the skills and values she regards as crucial for future entrepreneurs. She also talked about how appearing on the show has impacted on her career and business development. Students participated in a Q and A session with Elizabeth, who was honest and open in her replies. The students found her to be engaging, amusing and informative.