Welcome back WBS!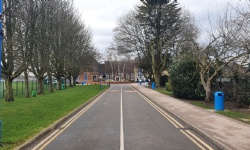 We are looking forward to welcoming back students on Monday 8th March
We are really excited about seeing you back in School on Monday morning. We know that you are looking forward to meeting your friends, having lessons with your teachers in real life, and getting involved again with some of the things you have missed – maybe PE or a practical lesson like Art, maybe an after school activity, or perhaps just getting out of the house for a change!
We also know that some of you will have worries and concerns. Don't forget, your tutors, Pastoral Teams, teachers and friends are here for you. As always, we get through our difficulties together.
Most things will be just as they were back in December, but others will have changed slightly - for more details about these changes, please see the announcements section on Brightspace.
We are looking forward to seeing you in your tutor rooms, looking smart in perfect uniform. Don't forget your sanitiser and your face covering.
The government have asked us to make sure you now wear masks in classrooms, for a few weeks up to Easter. We know its uncomfortable, but we also know that every time we have asked you to do something for each other – and for the community – you have done it. We know that you will want to carry on supporting each small change which goes towards keeping us all safer. We also know that a few of you have good reasons why it's not right for you to wear a mask, and we respect that.
So – masks in Assembly, corridors, classrooms and canteen queue. No masks in PE, whenever you are outside or sitting in the canteen.
If you and your parents gave consent, you will be coming or have been in to school this week for your quick and easy swab test. You will have two more in school over the next two weeks, then you take a pack of tests home.
And finally – we have missed you all so much. See you on Monday!