Awarded Gold for anti-bullying work in school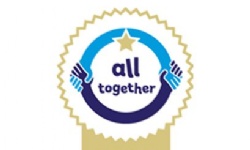 We are delighted to share with you our success in achieving the All Together United Against Bullying Gold Award! This award represents the considerations, effort, planning and hard work from staff and pupils that goes into tackling bullying in all its guises and the positive, sometimes immeasurable, impact this has on every member of school, as well as the community as a whole.
In 2018, we decided to sign up and incorporate our annual anti-bullying action plan targets with the Anti-Bullying Alliance (ABA) guidance. As encouraging as it was for us to reflect that we already had effective practice in place, ABA provided a fantastic range of resources and support, which added a great deal of value to the work we do. The audit and planning tool equipped us to explore leadership and policy, intervention and prevention, and data and training in greater detail. And so, over these past two years, we have reviewed practice and delivered a range of preventative and supportive anti-bullying interventions.
For example, just a few of our tasks this year:
Delivered the Year 8 No Bystander project and Peer Mentors anti-bullying assembly/tutor time activities;
Wider school awareness raising events and celebrations throughout the academic year linked to equality and diversity;
Worked with pupils on the ABA Wellbeing survey;
Pupils reviewed the Report Bullying and 'I need to talk…' buttons on Brightspace to ensure both are fit for purpose (and yes, we received their seal of approval!);
Annual checks to ensure key documents are clearly displayed in all classrooms;
Staff attended training and accessed the ABA online training;
Continue to collate and review data and pick up on emerging themes or issues linked to bullying
This is all well and good, but what do our pupils think? In a Pupil Voice consultation conducted early March 2020, pupils shared their thoughts on bullying and anti-bullying work in school. Many fed back that we have a clear zero-tolerance approach to bullying and this message is reiterated across different platforms, in matter-of-fact and creative ways.
Simple yet effective ways they feel this is achieved in school include:
Our Equality Agreement and Anti-Bullying Code being displayed in all classrooms, highlighting the key principles and expectations. Pupils also see reference to anti-bullying messages along the corridors around school;
Highlighting anti-bullying week across all year groups;
Bullying being taken seriously and sanctions issued – there are serious consequences for bullying others;
Pupils knowing where to go to report bullying and to access support;
Anti-bullying messages being shared in assembly and PSHE in different ways;
Achievements, effort and good behaviour being rewarded, including positive (verbal) feedback from teachers
County Anti-Bullying Coordinator, Lorna Naylor, has helped as a critical friend when reviewing our work. She shared this comment:
The All Together United Against Bullying project has just completed another successful round and I am delighted that West Bridgford School has achieved a Gold Standard.
This is a national award, funded by the Department of Education, which asks schools to assess their work to prevent bullying in their school and to deal with it effectively if it should occur. The school then draws up an action plan to work on any areas which need improvement.
This award takes a lot of effort on the part of the whole school including staff, students and parents and helps to create a positive environment in which West Bridgford students can thrive.
Well done.
Of course, there is always more to be done, particularly in a community with over 2000 people, and our work will continue; we are currently drawing together our action plan for 2020 – 21. However, it is also right to reflect on this success as it reassures all that we acknowledge bullying happens and we do something about it! Pupils expect to be safe, included and able to be the best of themselves they can be, and so they should. We also equip them to acknowledge they have a part to play in helping others have a positive experience of their time in school too – to treat others as they wish to be treated.
So this award is received in recognition of all pupils, staff and parents/carers who help our pupils have the best experience of learning, achieving, belonging and enjoying their time at school.
Thank you!