Languages during lockdown!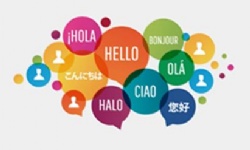 Brush up on one you already know or learn a new one
Amid the dark cloud that is the COVID-19 pandemic, many conversations online and over social media are turning to learning a new language or brushing up on one you already know. And what better time to do it with keeping yourselves healthy both physically and mentally over the lockdown period.
The advantages of learning a language are vast and reasons differ from person to person but here are a few (pictured below). Languages are hugely beneficial for all ages and backgrounds, from providing opportunities to travel and meet new people to a healthier brain, improving recovery and protecting against diseases such as Dementia.
For our students, they have the luxury of logging into websites such as Active Learn, Quizlet and Linguascope amongst others listed on Brightspace.
For any parent or carers looking to learn a language, or any groups or families looking to learn together, a lot of companies have released offers this week to aid people in their language learning journey.
www.babbel.com (choice of 14 languages – special 6-month offer)
www.duolingo.com (free for all, forever)
www.rosettastone.co.uk/lp/freeforkids/ (3 months free for all students)
www.busuu.com (free language learning including Mandarin)
www.memrise.com (free language learning including Polish + Arabic)
https://www.fluentu.com/ (14-day free trial, great tips for Youtube and Netflix)
www.youtube.com There's the 'Easy _____' channel. (French, German, Spanish and many more!)
www.secondhalftravels.com/german-tv-shows-netflix/
www.onnetflix.co.uk/category/french-films
Audible audiobooks – search Michael Thomas or Paul Noble
Here are just a few, I am currently using Memrise to teach myself some basic Italian but it is important to find the right one for you. Language learning does not always have to be about apps and studying. Youtube and Netflix are great, and Instagram – search for the language that you want and follow accounts that post phrases of the day. Discuss with and teach others to improve quicker.
Do not put too much pressure on yourself, set realistic targets and keep up with it. Little and often is the key!
MR HANNIGAN
"If you add a little to a little and do this often, soon the little will become great"