Bridgstock 2020 Is Coming!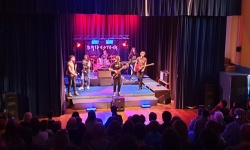 Be prepared to be blown away by our Students, but be quick to get your tickets!
After School each evening the sound of Bands rehearsing in the School Theatre herald the news that Bridgstock is just around the corner.
Organised and run by the Post-16 Students, the highly popular event enjoys sell out crowds each year. In recent years demand has been so high that a 3rd date has had to be added, and this year is shaping up to be no different to the past.
Tickets will go on sale, under the canopies at Break and Lunch, on Thursday 5th March 2020 for the following dates and will be priced at £3.50 each:
Wednesday 1st April, 7pm - 9pm
Thursday 2nd April, 7pm - 9pm
Friday 3rd April, 7pm - 9pm - SOLD OUT!