Coronavirus Latest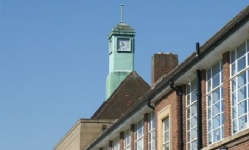 Last Updated: 14:00, 18 Mar 2020
We have been planning how we can continue to support students with examination work, in the event that at some point schools are instructed to close. These plans are available in the Letters to Students and Parents at the bottom of this page.
As you are aware the school is now operating under the most up to date guidance issued by the Government on Monday 16th March. This stated that:
Should your Child have any of these symptoms, they will be required to stay at home for 7 days.
a high temperature
a new continuous cough
Please take this advice and carry it out rigorously. At this time, we do not have the capacity to give advice when you make this decision. If at all possible, please use www.wbs.school>>Contact Us>>Report Absence to let us know of the reason for your child's absence, as we are dealing with a hugely increased volume of calls and emails, with a shrinking number of school staff.
SCHOOL CLOSED TO YEAR 8 AND 9 FROM THURSDAY 19TH MARCH
As the week has progressed these guidelines have had an increasing impact on staffing levels, not just teaching staff but all our colleagues who make the school run every day. As such I have no choice but to enact the 1st scenario I told you about in my letter last week, and ask year 8 & 9 to remain home from Thursday.
Please understand we will endeavour to upload work to Brightspace for these year groups as quickly as possible, however our teaching staff are stretched to capacity at the moment and this may take several days to enact.
NHS KEYWORKERS
The West Bridgford School will do everything it can to remain open for Years 7, 10, 11, 12 and 13 as long as practically possible. In addition, until the school is instructed to close by government, we will endeavour to maintain a skeleton service for the children of front-line NHS and Emergency Services employees. If you meet these criteria and your child is in years 8 or 9 please contact adminoffice@wbs.school to tell us your child will still be attending school. We will provide project work, books to read and IT facilities. When they arrive at school please direct them to go to the Learning Centre.
We are aware that a number of children on Free School Meals will be at home due to the partial school closure. If you are concerned about provision of a meal for your child at lunch time, please contact us and we do all we can to help.
If you need to raise a serious safe-guarding concern, please contact our safe-guarding team via 0115 974 4488.
Finally, can I thank you personally for the many emails of support and encouragement we have received in the last week. I have appreciated every one of them and thank you on behalf of the staff. I would normally endeavour to reply to each of them personally, however … I'm a little busy at the moment.
The Department for Education has helpline to answer questions about COVID-19 related to education. Staff, parents and young people can contact the helpline as follows:
Phone: 0800 046 8687
Email: DfE.coronavirushelpline@education.gov.uk
Opening hours: 8am to 6pm (Monday to Friday)
The latest information can be found at
https://www.gov.uk/coronavirus
Travel advice for those travelling and living overseas: