Borrow a book from the English department this Christmas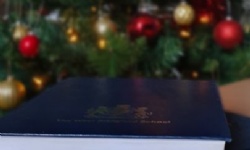 We are opening up the vast range of books that we have available in the department for your children to take and read over the Christmas holidays. Those who are interested can come to E5 after school on the 16th and 17th of December to choose the book that they'd like. It should then be returned by the 10th of January. Mr Hubbard will be running this scheme, and will be signing books in and out.
We know from research all over the world that children who read widely and often and who have plenty of books or magazines to read do better at school. We want them to read and write really well, so that they are confident when they see pages of writing that they haven't seen before and so that they are confident when we ask them to write. We also think that they should be reading beyond what is prescribed on the curriculum - something that they themselves have chosen. So, why not make such a selection from the range of high quality material that we have available in school?
Alongside this, please see below for some of the ways in which you can support your child with their reading.
Here are some useful addresses and websites:
The Chapter Catcher Magazine: https://thechaptercatcher.com/
The international children's library: http://en.childrenslibrary.org/
The Carnegie Prize: https://www.carnegiegreenaway.org.uk/
Your local library – where you can take out 12 books on one ticket! Just go to Central Avenue in West Bridgford Centre.
Your local shops where they sell books and magazines and comics:
Waterstones, 8 Central Avenue
Oxfam, 12 Central Avenue
Asda, Loughborough Road
Magazines and newspapers for children online:
The Week Junior: https://theweekjunior.co.uk/
National Geographic for Kids: https://www.natgeokids.com/uk/
Graphic Novel Reporter: https://www.graphicnovelreporter.com/
The English Department