YEAR 11 MOCK INTERVIEWS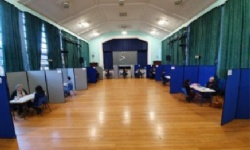 It's that time of year again when Year 11 get dressed up in their finest wears, pulsate with apprehensive energy and practise their handshakes obsessively…mock interviews!
Over the 28th and 29th of November all of our Year 11 students have had the opportunity to meet with someone from the world of work to experience what a real-life interview is like.

Prior to the interviews, students had handed in copies of their CVs, which were then marked and fed-back to the students with areas of development; these were then fi-nessed and finalised and handed back in, where they were sent across to all our mock interviewers to prepare for the day. These will then be return to the students, alongside their interview feedback sheets to provide valuable points for reflection based on the interview that they had, something that we hope will be incredibly valuable in the com-ing months of Post-16, college and apprenticeship interviews and applications.

We have had 28 providers give up their time over the two days to support our students through this important process and for that we are incredibly grateful. We have wel-comed in some of our governors, representatives from local business, the NHS, RAF, the Army, managers from ASDA West Bridgford, lawyers and course leaders from Confetti College to provide students with varied interview experiences.

Students have been preparing their questions in advance during registration, which has given them lots of food for thought around those all-important talking points – 'tell me about yourself' and 'what would you say are your weaknesses?' have thrown up some interesting responses from students and it has been great to see how they've reflected on themselves and their skill sets in so much detail.

Here's what a couple of our Year 11 students have had to say about the experience:

"I think that the mock interviews were a good opportunity to have a great insight in to the interview process that we will all experience. It was useful to find out what sort of questions we could be asked and how to present ourselves. This whole experience meant that there's been room to fix any mistakes ahead of future experiences."

"In the interview, I was asked about where I see myself in 5 years' time, what my great-est strength and weakness are and what I would like to do as a career. I found it really helpful as it gave me an idea of what an interview will be like and how I can present myself and my CV in the future."

"I found this experience extremely useful. From answering questions to seeing through my CV. I especially found the feedback interesting and will definitely take the points provided by the interviewer into future interviews. Thanks to this, I now know what to expect in an interview and understand what an interviewer is looking for."

A huge thank you once again to all of the people who have given up their time to sup-port our mock interviews and if anyone reading this would like to help with future ca-reers events, please get in touch!