A very lively Mexican celebration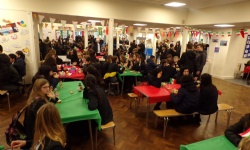 On Thursday 14 November we celebrated the incredibly rich and diverse culture of Mexico. Traditions and customs of the Mexican people are varied and interesting, which is not surprising, given the wealth of cultural influence with food, music, architecture and way of life. We brought a smidgen of this vibrancy into school via our themed-celebration lunch, of which we have three each year, and even the heavy rainfall didn't manage to dampen spirits!
In the lead up, pupils created stunning work in lessons on the topic of the Jarabe Tapatío, a Mexican folk dance. Their work was proudly displayed in the canteen, along with themed bunting, flags, coloured decorations and interesting facts about places, people, animals, food etc. The canteen looked its absolute best on the day and pupils filling the space enjoyed the atmosphere, their chatter, enjoyment and modern Mexican-Spanish music adding to it. The meal was a total hit with staff and pupils. Mr Parkin and his catering team prepared a super-tasty-menu, with something for everyone, including a colourful healthy Mexican-themed salad bar! Along with 'Road to Mexico 2026' games in the Theatre, getting creative with Calaca and the buzz of pupils completing the quiz, this was a top celebration with plenty enough for everybody to enjoy something!
Huge thanks to our Culture & Diversity ambassadors for promoting the celebration and for working so hard on the day.
Comments from pupils:
In my opinion, Mexico day was an absolute honour to be a part of. The upbeat music and the aura of the canteen was alive and colourful. A very wonderful celebration – Year 11
I really enjoyed the food, the music and the decorations – Year 7
I enjoy the sense of community present in all WBS activities and events – Year 12
Learning about the culture and food – Year 7
The food was great. Thanks! – Year 9
It was very good fun, the food was great, you brought the culture to life and the atmosphere was brilliant! – Year 7