THE 39 STEPS! Tickets for Sale.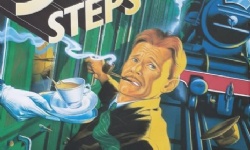 Hitchcock Made Hilarious!
Thursday 19th and Friday 20th September. Curtains open at 7.00pm.
Students and parents can purchase their tickets from Student Services - £2.50 for students and £3.50 for adults.
Tickets are now on sale for the schools 'laugh-a-minute' production of 'The 39 Steps'. Often described as 'Hitchcock Made Hilarious', the students are looking forward to presenting their interpretation of this modern classic. The play is based on the famous 1935 film directed by Alfred Hitchcock about a man in London who tries to help a counterespionage agent. But when the agent is killed and the man stands accused, he must go on the run, handcuffed to a stranger, to both save himself and also stop a spy ring which is trying to steal top-secret information. The play is a parody of the story, its conventions and the 'stiff-upper-lip' mannerisms of the era.
NOT TO BE MISSED!
Mr Reid - Head of Drama