IMPORTANT DATES AND TIMES OVER THE SUMMER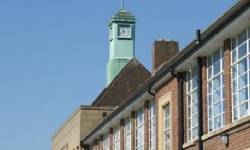 Last Day of Term – Friday 19th July
The school will be following its long-standing tradition of finishing school early (1.13pm) on the last day of the summer term. Limited school meals will be avail-able for those who wish to remain in school for lunch (1.13 - 1.45pm). The Learn-ing Centre will run a Homework Club service for students who wish to remain in school till the end of the regular school day, at 2.45pm.
GCE A Level Results Day – Thursday 15th August
Year 12 & 13—Results available from 9.15 to 10.30 from rooms B1 and B5 in Post-16 (Y12 students are collecting AS Further Maths and ICT results only)
Year 13 students will be able to access their provisional results via their Office365 SCHOOL EMAIL ADDRESSES ONLY from 6am. Students should test their access to their school email BEFORE Results Day
Mr Bowie will be available in school from 7.00 am for advice and guidance around the UCAS Process
GCSE Results Day—Thursday 22nd August
Year 11 – Results available from 9.30—11.00 from rooms B2, B3 and B4 in Post-16
All other years can collect their results from reception after 1pm
Post-16 Applications – 22nd and 23rd August
Post-16 staff will be available 9.30am till 3pm on the 22nd and 9.30am till 2.00 pm on the 23rd of August for advice and guidance on applying for the Post-16 Centre.
Please read ALL the information in your results envelope for personalised guidance on your application
First Day Back – Tuesday 3th September (Week 1)
There will be a staggered start to the day as we welcome our new Year 7 and 12 to the school.
8.30am – Year 7 and 12 go to their tutor rooms
10.20am – Year 13 go to their tutor rooms
10.30am – Years 8, 9, 10 and 11 arrive and go directly to tutor rooms
11.11am – Normal lessons begin