SO LONG! FAREWELL! AUF WIEDERSEHN! GOODBYE!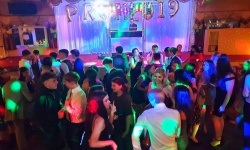 Only Results Day remains as an emotional Year 13 bid farewell to school life
This edition of Year 13 were clearly born lucky! Not only did the weather hold for their Leavers' Day, it also held for their Prom, held once again in the leafy, bucolic surroundings of Blotts Country Club in Holme Pierpoint, a suitably grand but understated venue that gave ample room both in and outside for students to relax having made their entrances. The mood was calmly upbeat throughout the evening, with a dash of melancholy as students began to realise the significance of the day in the context of their education.
The NUS Committee (Robert Hall, Niamh McCleish, Sohnia Ghattaura, Nathan McCreedy and Emily Baldwin, aided and abetted by Hattie Widdowson) can feel very proud of the way they were able to seamlessly organise such a slick, yet personal, event. Students were able to mingle with staff and peers in the beautiful outdoor setting, bathing in warm summer sunshine, before heading in for their meal. An innovation this year was the choice of a buffet rather than the more traditional formal sit-down meal, which enabled students to have more choice about what they ate. The food looked and tasted wonderful and all staff were very happy! Robert Hall, Hattie Widdowson and Damon Kalantar made witty, urbane hosts for the awards presentations before the dancefloor was hit hard. This year's big hit was The Macarena – Mr Smith and Mr Deans could be heard to say that it was as if punk had never happened.
As always, as the light faded, it began to dawn on the students that this was potentially the very last time that they would all be together. If that is the case, this was a wonderful summation of their time together and a real reminder of what made this year group such a delight – they were polite but fun-loving, serious yet irrepressible. I would like to thank them all for their many and various contributions to school life over the past two years. Good luck! You will be missed.