Y11 Prom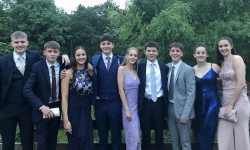 Tuesday 18th June was our long awaited Year 11 Prom at Colwick Hall Hotel. Despite the torrential rain, we styled it out! Year 11 pupils arrived wearing all of their finery in an array of swish cars to be met by staff holding a wall of umbrellas. The red carpet may have been soaking wet, but their entrances were grand all the same.
There was a lovely vibe all evening, staff and pupils enjoyed coming together one last time to celebrate the successes of the last five years. After months of exam preparation and stress, it was a well deserved chance for the pupils to let off some steam and celebrate the closing of this important chapter in their lives.
Mr McDonough had the difficult task of choosing Prom King and Queen. He made his decision based on style and individuality of outfits. After much deliberation, Lois Timms and Charlie Fielding were crowned Prom King and Queen 2019.
The marquee had been beautifully decorated by Chloe Allford, Emilia Mann and Lois Timms. This was the culmination of months of planning by our fabulous Prom Committee. Mrs Kaur and I have had lots of fun shopping for them on demand, I have now had a glimpse of what it must be like to be the parent of a teenager. Special thanks also to Catherine Allford, and Kirston Timms (and entourage!) for all of their help in setting up on the day – tying individual sashes onto 250 chairs requires a lot of patience.
Thank you to everyone in attendance for making it such a lovely celebration. It has been an absolute privilege to guide these amazing young people through their time at secondary school. Next stop: GCSE Results day.