The New Academic Year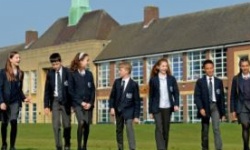 Early timetable promotion – what is it and why do we do it?
Early timetable promotion has been with us for nine years. We use the launch of 'the new academic year' in June for many reasons. KS4 students get an extra 5-6 weeks studying their new GCSE option subjects, with the possibility of setting relevant work over the summer. KS3 students don't lose momentum in their learning as they near the end of a school year. Also the first week in September just becomes another teaching week as all course launch activities have already occurred.
Students have now received their new timetables and setting letters, while on Friday 14th June, staff used the INSET Day to carry out all the myriad administrative duties required to begin a new academic year.
Over the weekend the school administrative systems promote the whole student body to their new year groups so that on Monday 17 June they come back a 'school year' older. Brightspace is directly linked to our school information systems and will also update over the weekend.