Goodbye to our Year 11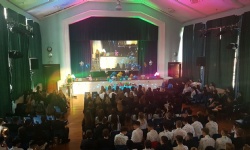 Friday 10th May was our very last 'official' day in school as Year 11. On the day of this eagerly anticipated rite of passage, we saw a range of emotions from both staff and pupils alike.
Registration period for Year 11 was a hive of activity, with farewell breakfasts and speeches taking place across the school. Year 11 then attended their final four lessons before our Celebration Assembly during Period 5. The atmosphere in school throughout the day was happy and relaxed, with a strong undercurrent of emotion. Year 11 pupils were in a reflective mood, ready to share stories and reminisce about their secondary school life. For the vast majority of the year group, this started on day one with Mrs Clarke and me welcoming them to West Bridgford School as brand new Year 7s.
The Celebration Assembly started with a blare of music and a wall of energy from the Year 11 audience. We had a rolling display of every pupils' name next to their Year 7 and Year 11 photos – this was very well received and will next be recreated in our Yearbook.
Eddie Moualek was first up to collect a prize, being commended for being the only pupil in the year group with 100% attendance for the last five years. Casey Cheung also received a prize for being hot on his heels with 99% attendance.
I then handed out lots of prizes to a wide variety of pupils; some of the reasons for these were a little more tongue in cheek than others and I am hoping that the pupils in receipt of an alarm clock will see a difference in their punctuality at college next year!
Mr Durose put together a fabulous montage of hundreds of photographs of the year group from the last five years, interspersed with recorded messages from tutors. There were lots of tears and hugs as the year group, tutors, teachers and support staff came together to share memories and reflect on their achievements of the last five years.
We will be remembered for being a passionate, hardworking, high achieving year group. Our amazing Tutor and School Council Representatives over the last five years have worked incredibly hard and have led us to host two fabulous non-uniform days for very deserving charities. It has been an absolute privilege for me to have been a part of their journey. I have always been very proud of them as a year group and I know that they are prepped and ready to tackle their exams.
I look forward to seeing Year 11 in all of their finery on Tuesday 18th June at Colwick Hall Hotel for Prom.