A day full of sights and sounds!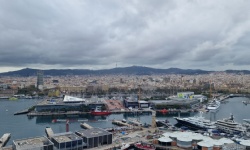 15 November 2023, 23:55 (CET) - Day 3 in Barcelona.
This morning we were picked up at 9.30 by Carlos, our driver for the day. Carlos took us first to the Aquarium, which is located in the Old Port in Barcelona. Though the Americas Cup next year means that our usual car park had been taken over temporarily by Ineos, Carlos was able to drop us off near the entrance and we were able to enjoy the aquarium and learn about the marine life in the Mediterranean and beyond.
After visiting the Aquarium we had some time to have our picnic before we took the cable car across the port and onto Montjuïc. The views across the city were spectacular and really allowed the students to get a view of the city from above, picking out famous landmarks on the skyline.
On Montjuïc some of us had an ice cream (Miss Gamero stood by the vendor to make sure the students ordered in Spanish!) and we walked past the Olympic swimming pool and further on to the Olympic Stadium. Barça are playing there this season so it was curious to see the club's crest around the pitch and we were able to walk right in and enjoy a great view of the stadium. It brought back memories of 1992 for some members of staff and Mr Judge ensured students were aware that this was where Linford Christie and Sally Gunnell won gold for Great Britain!
Whilst we strolled down from Montjuïc, Carlos was patiently waiting for us somewhere near Plaza España. From here he would take us to the Gothic Quarter, where we did a little walking tour of the old town. We stopped in some charming little squares and walked through the narrow streets, getting a nice feel for this part of the city.
By 6.00 the students were ready for dinner and we made our way to Fresco for our evening meal. The variety on offer meant that there was something for everyone and it gave us the chance to have a little rest before we finished our day at the Flamenco show at Tarantos. The show was spectacular, indeed a highlight for many students and staff and there were lots of 'olé's from the audience. Not long after the end, we were back on the bus and Carlos took us back to the hostel.