STUDENTS DO THEMSELVES PROUD.....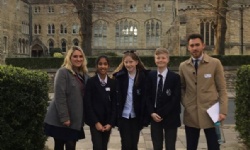 .....IN REGIONAL FINALS OF THE FOREIGN LANGUAGE SPELLING BEE!
On Wednesday 27th March, three students from the MFL department travelled to Stamford School in Lincolnshire to compete in the National Foreign Language Spelling Bee competition. Stuti Gupta and Mack Atkinson (both French) and Hannah Gibbons (Spanish) made up the final 45 out of 3400 original entrants of the competition in The East Midlands.
The students were required to translate and spell as many words as possible from English into their specialist language in one minute. We did not qualify for the National Finals, but the standard was extremely high and the students performed admirably alongside many independent schools. Well done to all students who were a credit to their subject teachers, the MFL department and the school as a whole.