TOP OF THE BENCH COMPETITION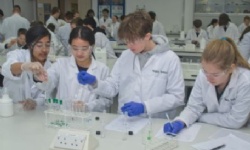 2019 is the International Year of the Periodic Table, celebrating 150 years of Chemistry's most important and iconic concept. With that in mind, Mrs Barlow, one of the newest teachers in the Chemistry department, organised an entry this year for the Royal Society of Chemistry's 'Top of the Bench' competition. She assembled a crack team of Chemistry students from Years 9-11 who answered the first round of questions after school in November and won a place in the regional finals at the University of Derby on Saturday, 19th January.
And so, early on a very cold mid-winter Saturday morning, the four students met at school to be driven to the University of Derby and take part in the next round of the competition. They were up against 13 other schools from all over the East Midlands, mostly private schools, and the competition consisted of two rounds; the first was a challenging quiz on a wide range of Chemistry topics and the second was a practical investigation designed by the sponsors, Lubrizol. Our delegates had to test four de-emulsifiers (a common diesel additive) and produce a report and recommendation based on their findings. The participants were then treated to a series of demonstrations of colourful redox reactions, followed by a delicious lunch whilst the quizzes and reports were marked and the results compiled.

Although we didn't make it through to the national finals, the students had lots of fun representing West Bridgford school and have gained lots of valuable experience and some fun freebies. We will definitely be giving it another go! next year!