Post 16 Open Evening - Wednesday 10th Oct 2018, 6-8pm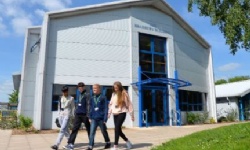 Wednesday 10th October 2018, 6-8pm.
It is with much pride that we invite all prospective Post-16 students and their parents/carers to an exciting evening about the wealth of opportunities that are available at The West Bridgford School, on Wednesday 10th October, 6-8pm.
The main purpose of the evening is to give both students and parents/carers the chance to speak to subject staff, as well as current Sixth Form students, about what a marvellous opportunity Sixth Form life affords students here.
Programme of events -
MAIN HALL - Mr Bowie will lead an introduction to The West Bridgford School Post-16 Experience.
-Tutor Groups A, B, C, D are invited to the talk that starts at 6pm
- Tutor Groups E, F, G, H are invited to the talk that starts at 6.45pm
- If you are new to the West Bridgford School please attend either talk.
POST- 16 CENTRE
All subject areas that offer Post-16 courses will be represented, with a wealth of advice and experience on-hand from subject staff as well as Sixth Form tutors, all of whom have considerable expertise in both Further and Higher Education provision. Refreshments will also be available here. Mr Deans will lead talks on A level subject choices in the Common Room at 6pm, 6.20pm, 6.55pm and 7.30pm.
The Post-16 Team look forward to seeing you.
(Unfortunately, parking on site is only available for Blue Badge holders. Local parking, on streets surrounding the site is very limited and congestion can occur. We recommend that, where possible families walk to the event. If you have to drive please be considerate to our neighbours when parking).