The West Bridgford School Remembers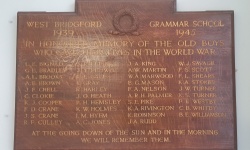 Today, Students and Staff will observe a minutes silence to mark Armistice Day. At The West Bridgford School, whilst we reflect on all members of the Armed forces, we also relfect on former pupils who have served during times of conflict.
39 former pupils of The West Bridgford School who served and died during World War 2 are commemorated on our Remembrance Board outside the main school hall.
Many of the boys on the memorial board were in the school's own Air Training Corps, where they learned about basic aircraft maintenance on a Gloster Gladiator, an ageing fighter aircraft, kept in the school's grounds.
From the ATC, many went onto the Royal Air Force Volunteer Reserve. They were civil-ian volunteers who trained as pilots, aircrew and ground crew and were called up to serve in wartime. By the end of 1941 more than half of Bomber Command aircrew were members of the RAFVR. The majority of The West Bridgford boys on our board served in the RAFVR.
In Bomber Command they flew bombers like four-engined 'Heavies', such as the Lancaster, from bases mainly in the East of England. A crew, usually of seven, would fly night raids on enemy territory in cramped and freezing conditions with the constant risk of engine failure, anti-aircraft fire (flak) and German night fighter air-craft.
Over 55,000 British airmen were killed in World War 2 out of 125,000 total aircrew who served. Thousands of others were captured and held as Prisoners of War when they were forced to bail out over enemy territory.
Although the majority of our boys served in the RAF, some served in other branches of the armed forces. Some were in the Army, Royal Artillery, the Signal Corps and in the Royal Navy, for example Bernard Williamson served on HMS Kelly, which was celebrated in the war film 'In Which We Serve'. The Commonwealth War Graves of some of our boys can be found in Nottingham Southern Cemetery, Wilford Hill.
They shall grow not old, as we that are left grow old:
Age shall not weary them, nor the years condemn.
At the going down of the sun and in the morning,
We will remember them.