UCAS Application Time.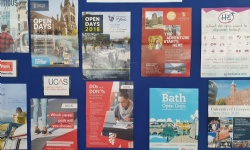 As always Mr Bowie is ahead of the game in supporting Y13 students.
On the 12, 13 and 14 of June Mr Bowie and Mr Deans ran a series of days supporting our new Year 13 in their UCAS Applications. WBS Post 16 begins this process many months ahead of many centres and is expert in optimising student applications. All students have now had a 22 June deadline for submission of their 1st draft Personal Statement added to Brightspace. Mr Bowie will then provide personalised feedback for every Post 16 application.