Best of Luck to B13 - Young Enterprise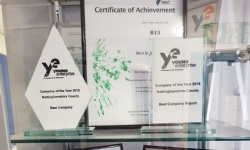 Can B13 continue the WBS Post 16 YE winning streak?
All of Post 16 are wishing our B13 Young Enterprise group the best of luck as they head off to the Regional Finals today Their product focuses on supporting people with mental health issues, a strategy we can all throw our weight behind. In previous years our YE teams have done very well in the competition as Mr Whitmarshs bulging trophy cabinet shows!